Russell R. Crowell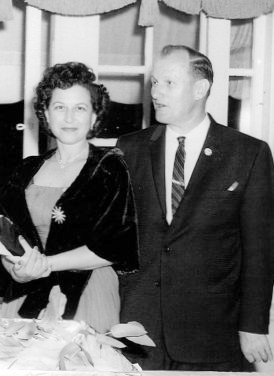 Russell Crowell died in Diamond Springs on September 11, 2004 after a lengthy illness. The 18th of 19 children, Russ was born to Charles Crowell and Susan Crowell of Walthill, Nebraska on April 23, 1919. His father died when Russ was 8 years old, and his family lived in poverty through the depression. He excelled in school and received a college scholarship, but rejected it and hitchhiked to California in 1937 instead to find a job. He eventually found work in a dry cleaning plant, and in 1940 he met and married his wife Marian, to whom he was still married 64 years later at the time of his death, and who survives him.
In 1944, when his son Steve was only 18 months old, Russ was drafted into the U.S. Army and served as a PFC in the Philippine campaign. Upon his return from WWII, he returned to work in the dry cleaning plant and became active in his local union. In 1951 he was asked by his local union to go to work as its business agent.
In the '50's Russ worked to expel the corrupt Teamsters and Laundry Workers international union officials from the AFL-CIO, and was then instrumental in creating a new laundry and dry cleaning international union within the AFL-CIO. In 1962 he was elected president of the international union, in which position he remained until his retirement in 1983, when he moved to Diamond Springs and began selling the Christmas trees he'd begun planting in 1974. He was also President of the Alameda County Central Labor Council for many years and was a past President of the El Dorado Democratic Party Central Committee. In his capacity as a trade union reformer, Russ met and worked with many Democratic Party leaders such as John F. Kennedy, Lyndon Johnson, Hubert Humphrey, Jimmy Carter, Pat Brown and Jerry Waldie. His union turned out so many voters in the 1960 presidential election that the Democratic party rewarded Russ and Marian with a private dinner with Harry Truman. Russ was an expert collective-bargaining negotiator and strike planner, and always ran a very effective picket line. In the 1960's he participated in civil rights freedom marches in the South, including Martin Luther King's march at Selma, and he liked to tell stories about his various picket line arrests. His life truly bridged frontier and post-modern Americas.
Russ and Marian had two more children, William and Wanda, and all of his children survive him. He is also survived by nine grandchildren: Ben, Matthew, Daniel, Joanna, Andrew, Leala, Patrick, Nathan and Sydney, as well as six great-grandchildren: Adam, Zachary, Bailey, Savannah, Helen and Irene. Many Placerville residents met Russ over the years when they bought Christmas trees at his Diamond Springs farm between 1983 and 2001. He was cared for by his wife Marian after his health declined. Russ requested that no funeral services be held, and that instead any donations in his name be made to the Snowline Hospice of Placerville.
*
Russ's family is putting together this web page as a memorial to him. We would love to hear from you if you can contribute something: a eulogy, a picture, a special memory you have of him, or one of the stories he used to tell. Please send contributions to Bill Crowell, either by e-mail, or by paper mail if you're not an internet user.
Pictures
To look at one of the pictures, click on the small thumbnail image.
Russ's father, Charles, and his first wife, Alice, shortly after moving to Nebraska

Russ's mother and father, Charles and Susan

the house Russ was born in, Walthill, Nebraska

with sister Ruth, at age 3

at Lake Temescal in Oakland in the late '30's to early '40's

with Harry Truman

the board of trustees and officers of Local 23, Cleaning and Dye House Workers' Union, AFL around 1956, before the AFL and the CIO merged and expelled the Teamsters and old Laundry Workers in 1957

crawdad fishing at Cowell Creek in Concord in about 1957

with Hubert Humphrey

In 1962, many labor unions practiced racial discrimination because their white members wanted them to, and the 1964 Civil Rights Act was still 2 years away. At Bobby Kennedy's insistence, JFK wanted to eliminate racial discrimination by unions so he signed an executive order prohibiting it. But he was afraid no unions would follow it, so he invited the presidents of all the international unions to Washington, D.C. to sign a voluntary pledge that they would not engage in discrimination. Of course, Russ signed it, but a lot of unions refused to. This picture is of the signing ceremony.

Going through Grandpa's papers, Bill found many interesting cards and letters, including a bizarre telegram from Moammar Qaddafi, as well as this Christmas card from Bobby Kennedy. In 1967 there was a lot of speculation about whether or not Bobby Kennedy would challenge Lyndon Johnson for the 1968 presidential nomination. RFK sent his supporters like Russ this Christmas card, with a quasi-psychedelic motif and a sly hint on the last page that he would indeed be running. A few months later, he was also assassinated.

with Lyndon Johnson

on the picket line with Jess Cooksey

with Jimmy Carter

with Jerry Waldie

with great-granddaughter Helen Crowell, December 1997

named El Dorado County's Democratic Party Man of the Year in about 1998
Here are some photos of Russ put together in one image, suitable for printing.
Remembering Russ Crowell
What Dad Believed and Other Lesser-Known Stuff
When I was a kid in the 1950's, Dad would routinely take me to my accordion lesson each week, and on occasion he would talk about his philosophy and his vision of the future. As a young idealist, he was out to help the little guy, and he did this through his union work. Dad figured that not everyone was particularly gifted, nor blessed with social advantages, and that the world was largely dependent on the regular working person. He believed that for the economy to prosper, the working man needed to earn a decent living so he could afford the goods and services that keep the country running. He figured this working guy deserved a fair shake for devoting the better part of his life to the employer's cause, and he put his belief into action by creating better wages and conditions for the people in his industry. In fact, under his leadership his union members received the highest wages of any dry cleaning and laundry workers in the world. He played by the rules. His was a model union, and union officials from all over the world visited him for advice and counsel. I remember him telling about a couple of union officials from India who wanted to see "our slums". So Dad took them to West Oakland, where they were astonished to find that our "slums" were what they considered to be pretty decent housing in India.
He became the champion of minorities, of which his union members spoke reverently and affectionately about him. He was one of them, and he spoke for them, and nothing made him happier than to negotiate a good contract for his members.
His was an eternally bright and optimistic philosophy, and he didn't need any Dale Carnegie or Tony Robbins self-help courses. He put their teachings into practice without even thinking about it.
But I still find myself talking to him, asking him what he would do, and I really think I hear him answer: "Get it done, get past it, and move on to the next adventure."
Thanks, Dad.
-- Steve
My Dad was such a good father that I really began to wonder whom he adopted for his role model when it came to fathering. I think it proves either that he learned his fathering skills from his own father before he was eight years old, or that he learned them from his mother and siblings. After his father died, they didn't have any money and, though it might seem fatuous for me to say it, it was almost like they didn't need money because almost everybody in his home town was reduced to poverty, too. (He said the only kids who could afford shoes were the banker's sons, but the poor kids convinced them to go barefoot, too.) His family grew a large garden, especially tomatoes, and they canned them to eat during the winter. You could buy a large box of macaroni or two loaves of bread for a penny, and they would have stewed tomatoes and bread or macaroni most nights. It sounds terrible, but it was really a fairly decent diet, and he said it was plentiful. And one of my Dad's old stand-bys, food-wise, was bread and milk.
My Dad told me that when he was a kid he raised chickens to eat, and for their eggs. He had one chicken coop and thought he could increase his production by building another. He had plenty of materials except for nails. He couldn't afford to buy nails, so he took apart other wooden things to get enough nails, straightened them, and used them again. But he still didn't have enough nails, so he asked his mother for a penny to buy some. However, she couldn't help him because she had not a penny to spare. Even when the going got really tough, my Dad would make a joke out of it and cheer everybody up.
Those farm boys like my Dad really grew up strong. Until he got sick, he could work harder than younger people. And he surely would do anything for his family. Everybody always loved his outgoing personality and all the jokes he could tell.
My Dad liked to joke about his impoverished childhood, but you could tell that it affected him profoundly. He wanted to find some meaning in his childhood experiences, and he didn't want other people to have to suffer the same poverty that he did. Being a closet intellectual, he had a natural tendency to try to find that meaning in ideology, but his early ideologies failed him and he rejected them. When he came to California, he considered himself very lucky to have a job in a dry cleaning plant with a regular paycheck, but he couldn't believe the wage increase he got when the union organized his shop and negotiated its first contract, and he was a union man ever afterward. His trade union beliefs became his ideology for preventing suffering. He took no satisfaction in considering the labor movement to be merely a power struggle between labor and management, and insisted that it must also have theoretical underpinnings. His labor ideology was "the tide raises all boats" theory: even if the labor movement couldn't organize everybody, it would nevertheless drive up the wages of even non-union workers because non-union employers would be forced to raise their wages in order to compete for workers with union shops. I think that was why he was such a good organizer: he really believed in the cause because he had an ideology to back up his underlying sympathy for the underdog, and employees found his enthusiasm infectious. He went on to organize, for example, lots of laundry workers in the South in the mid '60's who had been making only $1 per hour before his union came along, and after he negotiated their contracts they were making over $4 per hour. How would you feel about a 300% wage increase? No wonder his union members loved him so much.
My Dad wasn't very mechanically-inclined, and he usually got me to fix his car when it broke. That wouldn't have been so bad, but he had a German shepherd that he'd trained to play fetch with your wrenches when you'd lay them down. When I was a kid, he was a little dogmatic about his trade-unionist beliefs, but when he got older he really mellowed out a lot. You can't blame him for becoming such a strong union man after the way he was treated as a lad by Butch Burkett, the dairy farmer, back in Walthill. Another story he liked to tell was how he didn't know what a street address was when he hitchhiked out to California in 1937, and therefore had a hard time locating his brother Lloyd.
My Dad was always willing to help me whenever I needed it. He was smart enough to realize when he made a mistake and would correct it. As a result, he did most things right. I would like to be half the man he was.
-- Bill
I have lost as good a friend as I have ever had. His infectious humor, his enthusiasm for union activities, his dedication to the politics of the Democrat Party, his absolute love and devotion to his lovely wife, Marian, and his pride in his entire family, demonstrate the powerful attraction he elicited from friends and political disbelievers, alike. My driving to the Democratic party gatherings in our county will be lonely without Russ as my companion.
-- Jerry Waldie
One summer during the late 1990's, I was visiting Grandma and Grandpa, and I tried to give Grandpa a hand with shearing the trees. The two of us went down to the field with gas-powered shears, and the work involved holding the shears up high above our heads while standing in the hot sun. Grandpa was in his seventies at that time, and I was about 30, but apparently it makes a permanent difference in your body whether you spend a lot of your life as a farm laborer rather than typing on a computer. He kept asking me if I was tired and wanted to take a rest, but meanwhile he was buzzing along merrily, hardly even seeming to break a sweat. I think he was disappointed that we had to quit so soon.
Another farming-related incident that sticks in my memory was when I was in my early teens, and some of the other grandkids and I were visiting in Placerville for Christmas. There was a lot of brush in the front field that Grandpa needed burned up, so he started the pile burning, and then stationed me and some of my cousins (Matt and Dan?) out there with a can of gasoline and a cup, with instructions to toss cupfuls of gasoline onto the fire from a safe distance in order to keep it burning. It made cool mushroom clouds. To me, this memory really illustrates the difference between present-day America and the frontier that Grandpa grew up on.
Grandpa never took himself too seriously, so you sometimes had to read between the lines --- or punchlines --- of his stories to see what an idealistic person he was. He would tell the joke about how he got religion, with the punchline to the effect that his religion was trade unionism. Then I'd have to try to fit that into his life, his ideals, and the history he'd lived through: forging his political beliefs a young man growing up in the Depression, and then living through the disillusionments of 1939.
Sometimes it was hard to sort out which of his stories were dramatic exaggerations. Seventy years later, there is still debate in the Crowell family about when, whether, and how the Crowell kids in Nebraska had shoes to wear, but the story about his method for keeping his feet from freezing sure was memorable. We also knew that there were some things he would avoid talking about. I guess he was typical of his generation in that he almost never said anything about his experiences in World War II. And in the 1950's, it would have been all too easy to become yet another innocent victim of McCarthyism.
We tend to get a lot of our ideas about history from Hollywood and pop culture, but Grandpa didn't come from central casting. He would get teary-eyed singing the Internationale, but at the same time he was a mainstream liberal Democrat, an enthusiastic supporter of the anticommunist Solidarity movement, and a vocal critic of Gray Davis. It might all seem contradictory, but it's really only contradictory if you judge it against some kind of homogenized schoolbook version of history. He might not be the stock Horatio Alger character, but what could make more sense than the way his life went? His mother was a single parent supporting a huge family during the Depression by doing people's laundry; he ended up organizing laundry workers. His father spoke several Indian languages, and he married Grandma, who had had scary experiences of antisemitism as a girl; little wonder that he worked against racial injustice.
The thing that does still amaze me about Grandpa is that he kept such a positive outlook on life, despite the many negative things he lived through. The Depression and World War II could be considered two of the crueler jokes ever played on the human race, and yet he responded to them with sanity and courage and generosity. Having become a true believer in trade unionism, he then found out that a lot of the leaders of his union were actually crooks and gangsters. Most people would have responded by giving up on unions, but Grandpa's response was to start working to reform his union. At one point when he was working to replace the old laundry workers' international with a new one, he got a phone call at a hotel in Chicago where he was staying: "Don't you know that it's bad luck to be thrown out of a 13th floor window?" Grandpa left for a few hours, and when he came back, he found that his hotel room had been ransacked. That story is just one example of how Grandpa didn't just believe in his ideals --- he lived them, and he stuck by them when most people would have given up.
-- Ben
In the pantheon of a young man's heroes in the 1960's were three Jacks: Jack Kennedy, Jack London and Jack Kerouac. There was also Bobby Kennedy. And don't forget Willy Mays and John Glenn.
My own list included Uncle Russ among these great lights. The others I could only read about or watch on TV, but Uncle Russ would, on occasion, come down from Mt. Olympus. As if by magic, he would appear at some function or other to straighten my moral compass with words of sage advice couched in jokes and stories.
Because we lived some distance apart, I rarely saw Uncle Russ. No doubt that contributed to his hero status. My dad, yet another Jack, only spoke of his brother's heroics and I don't recall ever hearing anything about Russ' human foibles. He was simply larger than life.
He was a straight-shooter, always fighting on the side of the underdog, always aligned with truth, justice and the American way. Maybe he should have worn a cape and a big red "R" on his shirt, but I didn't see him like that. He was the cowboy in the white hat, forever gunning for the bad guys. The corrupt union official or government bureaucrat had no rest when Russ was in town.
I think his greatest legacy consists of two words: Question Authority.
It's not surprising that Russ was an iconoclast. New research indicates that he descends directly from Anne Marbury Hutchinson. Like Uncle Russ, she was unyielding in her belief in basic human freedoms. In 1637, after admirably defending herself in one of the great American trials and refusing to recant her beliefs, she was banned from Plymouth Colony. Through her, and on to Uncle Russ, runs the blood of the Magna Carta barons who brought King John to his knees and first established the rights of the common man.
Uncle Russ never knew of his Hutchinson ancestry, but he carried on her tradition and nobly stood up for what was right. I will miss him.
-- Lee Crowell
I've known Russ for many years. Russ was a great guy, always ready to help others, and devoted to his family. He always had a big smile, and could get things done. My sons worked for him for several years on his Christmas tree farm and remembers him fondly as well. He will be greatly missed by all who knew him.
-- Randie Myers
I am very sorry to hear of Russ' passing. I always enjoyed reading his letters to the editor. I always admired him for speaking his mind that way. He was a kind man and he will be missed. With deepest sympathy,
-- Terry Flattley
I met Russ at the historic Laundry & Dry Cleaning International Union convention at the Congress Hotel in Chicago on May 13, 1957.
The Laundry & Dry Cleaning International was expelled from the AFL-CIO, and this convention was called with the hope that a change in leadership may allow them to remain in the AFL-CIO. The convention was well-organized. All the new officers were chosen by the outgoing officers. The convention proceeded as usual, with most of the time being taken up by speakers who spoke highly of the future elected officers.
A slate of new officers had been drawn up by the outgoing officers. The Dry Cleaners' International had merged with the Laundry Workers months before this convention. The delegates from the dry cleaning locals were strangers to the laundry local delegates.
All went according to their plans until the nomination of officers. It was at that point that I first heard the name of Russell R. Crowell. The president called for the nomination of officers following the slate. Ralph Fagan from the Chicago Local 46 was nominated for president - no opposition. Mildred Ginini was nominated secretary-treasurer - no opposition. Charles Naddeo was nominated for first vice president - no opposition. Lawrence Palacios was nominated for second vice president. Suddenly I heard a voice by a delegate named Henry Romiguiere from Local 7 nominating Russ Crowell for the office of second vice president. The hall became quiet, and to the surprise of all, a delegate named Fred Martin seconded the nomination of Russell R. Crowell. All the other officers were nominated without opposition. It was at that point that I started wondering who was this guy Russ Crowell. He knows he couldn't be elected, and I made up my mind at that time that I had to meet this delegate.
When the time for voting came, brother Crowell had differences of opinion with President Byers as to how to vote. President Byers stated they should vote by the unit basis. Brother Crowell pointed out that voting by the unit basis would be voting by proxy and that no proxy voting is allowed.
You have to have a lot of guts to take on the international president on a decision he made on how to vote, especially when you know you can't win the election. They finally came to an agreement that each local could vote by a unit vote or by individual ballots. Russ won this one.
Brother Crowell put up a hell of a fight. He got 3,032 votes. His opponent got 66,224 votes. I never saw a man who had lost an election so happy. He had made his point.
The Laundry and Dry Cleaning International was expelled from the AFL-CIO in 1958. The AFL issued a charter to the locals who desired to remain with the AFL-CIO. It is at that founding convention that Russ and I started a friendship that lasted until his death.
At the first convention of the AFL-CIO Laundry and Dry Cleaning International Union, Russ was elected third vice president. Winfield Chasmar was elected president and I was elected secretary-treasurer. It did not take long for Russ and others to see that the selection of Mr. Chasmar was an error. Russ and I were ready to dump him after the first two years, but the AFL-CIO did not want to create a division so early and they prevailed. At the second convention it was perfectly clear that no pressure from anyone could influence Russ and other board members to continue President Chasmar. At that convention in 1962, President Chasmar realized that he had a problem and called a special meeting of the board to ask each individual for what positions they were running. Being the secretary-treasurer, I was the first one called and I said I was running for secretary-treasurer. First vice president Morris Tusher said he was running for first vice president. Second Vice President Amy Ballinger said she was running for second vice president. Third vice president Russell Crowell was called and said he was running for president. President Chasmar then started asking the board whom they would support. Starting with me as secretary-treasurer, I said I was going to vote for Russ Crowell; Morris Tusher said he was going to vote for Russ Crowell; Amy Ballinger said she was going to vote for Russ Crowell; and all the other officers stated that they would support Russ Crowell. The meeting was quickly adjourned. The convention continued and Russ Crowell was elected President and continued in the position until he retired in 1983.
I recall when he was first elected he and Marian took a trip across the country visiting most of the local unions; something that was never done before.
Russ was devoted to the labor movement, to his members and to the improvement of all workers. As you know, he was elected President of the Alameda County Central Labor Council. Russ was a very devoted husband and father. In the 20 years that we traveled together, when he arrived at the hotel he never unpacked; he worked out of a suitcase like a salesman so he could pack quickly and get home to his wife and family. On many occasions he left me stranded for a day so he could return to his family. For an example, on one occasion we left Miami and drove to Tampa to finish negotiations. We were to return to Miami the next evening to make some local visits. We were ready to leave Tampa at 6:00 that evening to drive to Miami when Russ said, "Brother Begler, I got a plane out to the west coast in one hour. I am going home and you can finish up those little things by yourself. The first report when we met was always an update on his wife and children.
Russ did not know the meaning of the word "fear". He would tackle problems by instinct, regardless of any danger involved, and his cause was always right. I may add, for a farmer's boy he sure knew how to take your money playing cards, regardless of whether it was gin rummy, poker or pinochle. I know he didn't learn that on the farm.
Russ mailed me a copy of his book that he was going to publish some day: "Tales from Back Home and Other Places". Between his book and the reports on the family over the next 20 years, I got to know Russ as if I was a member of his family.
I never heard Russ talk ill about anybody. He was charitable beyond means and the first to assist anyone when the needed help.
I recall when Russ was elected President, he ran into Mr. Chasmar at the bar, and Chasmar, who he recently defeated, said to Russ, "Couldn't your father have stopped at 17?" We thank "Papa" for giving us his "18th".
-- Sam Begler
I recall how, as a result of uncle Russ' prominent labor position, more than once I was able to get his assistance in finding jobs. Also, more recently, in the early 1990's, when I became fascinated by UFO's and writing about them, uncle Russ read something I'd written on the UFO phenomenon. And he was one of the few people who read that thing and was actually somewhat supportive of my ideas. He wrote me a great letter about it which I still remember rather clearly, although somehow it now appears to be lost. And I guess I just recall uncle Russ' generally positive attitude and demeanor, and a quality of "being in the world" which I always admired and wish I myself possessed.
-- Alan Mitchell