about the author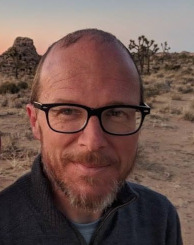 My name is Ben Crowell. I'm an open-source/free information enthusiast. I'm retired after a career teaching physics and a little math at Fullerton College, a community college in southern California. I have an undergraduate degree in math and physics from UC Berkeley and a PhD in physics from Yale.
My personal page is here.
My PGP public key is here.
U.S. mail
2233 Loma Alta Dr.
Fullerton, CA 92833
e-mail
CROWELL22


If you're e-mailing about the instructors' materials, please make sure that your email addresses all three of the requirements for obtaining them.
Before e-mailing for photo permissions, please read the licensing information on the copyright page of the pdf version of the book, and check the photo credits in the back of the book.
privacy policy
I don't send bulk email, and I don't send marketing email. If you send me mail, I will not share your email address with any third party. If you're a teacher informing me that you've adopted my books, then by default I will list your name, with a link to your school's web site, on my site, but I will not give out your email address. If you don't want your name listed, let me know. If you adopt my books, then I may send you email from time to time, e.g., to let you know when a substantially different edition is coming out. If you don't want to get that type of email, let me know.